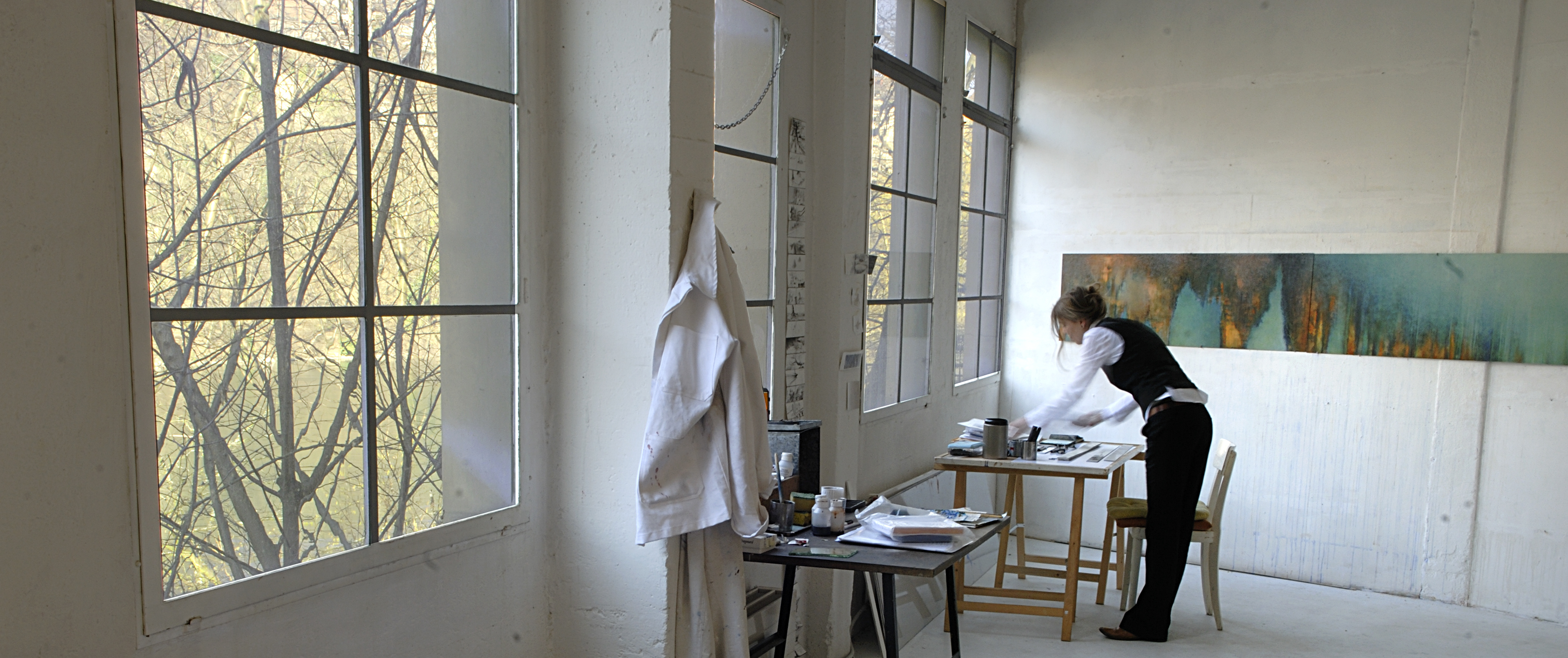 1975     Born in Montreux, Switzerland
                Laboratoire d'art contemporain, Genève, Switzerland
2018     °ELSEWHERE, Taipei, Taiwan
2017     °Temple Honen-in, Ariane Monod / with Virginie Jaquier
2015      °Art Projects Gallery, Central Hong Kong
2013      °Dohjidai Gallery, Kyoto, Japan
2012      °Drawing Wall, Halle nord, Geneva, Switzerland
2010      °Espace 27 & Espace cheminée nord, Usine Kugler
2008      ° Espace cheminée nord, Usine Kugler, Geneva, Switzerland
2006      °Act-Art, Centre d'art en l'ile, Geneva, Switzerland
2004      °Gallery Post Scriptum, Belfaux, Fribourg, Switzerland
2003      °La Grange à Vanay, with Alain favored, Monthey, Valais
2001      °Gallery Pane & Formaggio, Geneva, Switzerland
2016     °Affortable Art Fair Singapore / Art Projects Gallery, Hong Kong
               °Affortable Art Fair Hong Kong / Art Projects Gallery, Hong Kong
2015     °Affortable Art fair Singapore / Art Project Gallery, Hong Kong
               °Affortable Art Fair, Hong Kong / Art Project Gallery, Hong Kong
2013     °Art fair Sapporo, Sapporo / Dohjidai Gallery, Kyoto, Japan
2019      °"Murmures" , Collective
                Chapelle Saint-Maurice, Alby-sur-Chéran, France
                A proposition from Nina Schipoff 
                19.07.19 -  28.07.19, 2pm - 6pm / Close Monday 22.07.19
2018     °Carnets, collective, Halle nord, Geneva, Switzerland
2017     °Utopik Park, Biennale des artistes de Kugler & de leurs invités
                Usine Kugler, Geneva, Switzerland
              °Carnets, collective, Halle nord, Geneva, Switzerland
2016     °Carnets, collective, Halle nord, Geneva, Switzerland
2015     °Outre-mer, Usine Kugler, Geneva, Switzerland, Switzerland
              °Real Dream, Fonderie Kugler, Geneva, Switzerland
              °Aujourd'hui était hier était aujourd'hui... Geneva, Switzerland
2014     °Duo with Nina Schipoff, Espace K, Geneva, Switzerland
2013     °Pantone K 2013, Usine Kugler, Geneva, Switzerland
              °Ariane Monod – Leonard Felix – Maria Bill
                Usine Kugler, Geneva, Switzerland
              °La ferme de la chapelle, Duo with Chantal Carrel, Lancy, 
              °Kugler Remix, Geneva, Switzerland
2011     °Wall painting, Halle nord, Geneva, Switzerland
              °Mini (art) ure, Collective, Geneva, Switzerland
2010     °Extravaganza, Collective, Geneva, Switzerland
2009     °Panoramic, Collective, Espace cheminée nord, Geneva
2007     °50 X 50, Collective, Espace cheminée nord, Geneva
2002     °3 X 3, Visarte VD, Espace Arlaud, Lausanne, Switzerland 
              °3 X 3, Visarte GE, Center  of Art en l'Ile, Geneva, Switzerland
              °3 X 3, Visarte VS, Manoir de Martigny, Martigny, Switzerland
1998      °Artists' Books : Exhibition of Prints, Comestible Library, Geneva
1993      °The Gallery of the Galleries, Mines et Salines, Bex, Vaud, 
2000        Foundation Theodore Strawinsky, Geneva, Switzerland
                 Winner of the painting competition for graduates, HEAD 
                 (School of Fine Arts), Geneva, Switzerland
2007      °Diploma in Visual Arts, Pedagogical Visual Section, HEA
2002   °Proficiency Certificate in Secondary Education, HEP
2000   °Graduate School in Fine Arts, Painting & Printmaking, 
                 Graduation ESAV (current HEAD), Geneva, Switzerland
1993   °Certification Preparatory Course,  Applied Arts  school
2000 - 2019   °Visual art teacher, Secondary school, Bex
2014 - 2018   °Management of the evenement « Collecting time »
                          with Ikko Oyama, Program Echange Kyoto_Geneva
2007 - 2018   °Management of the exhibitions in the group 
                          «Espace cheminée nord», Association cheminée nord 
                          Usine Kugler, Geneva, Switzerland
2013               °Management in the group «Espace cheminée nord» 
                          by the exhibition «Pantone K 2013», A hundred artists 
                          in the Usine Kugler, Geneva, Switzerland


Oil on aluminum & bottom adhering
I paint with natural pigments associated with various mediums in successive layers on aluminium plates. Aluminium plates, in various formats, allow me to assemble and create large polyptics. In selected locations, I install the paintings with small invisible nails. These allow me to integrate the image into the wall, so that it appears like a mural. 
« Since her resins with strange depths between transparency and opacity, Ariane Monod has always been interested in working with materials and textures to create her interior landscapes that are not. Deprived of the thickness resin offers, she transferred this depth ontos thin aluminium plates, where the mere juxtaposition of  pigments worked into ttextures creates the depth of the field. In these large-format elongated works,most often horizontal  and sometimes combined in diptych or triptych, it is Ariane Monod's sense of color pairings which  transform into  all the splendor and vivacity of the spigments. The audience, brought to interpret the vastrhythmics of colour, sees kinds of inner landscapes, although the artist's work focuses solely on indefinite abstract shapes, never geometric ones, on the rendering of atmospheres and matter. Reading rhythms are induced by the horizontal format, which on the one hand, implies a shift - reading - across the painting and. on the other hand, allows the movement to decenter one's vision, thus prohibiting a frontal gaze  in favour of a side view which forces changes in viewing angles ».
Sophie Gander, October 2011                                                                                                                                                     
« In panoramic format, the paintings and charcoal works of Ariane Monod use the wall as a parade of memories the artist has accumulated  throughout her travels. The images fluctuate continuously; their form and informal horizontal sequence of tones have the evanescent quality of memory and dreams, like a film that fully develops before our eyes. Perfectly controlled, superimposed and juxtaposed visual pigments on metal plates create a horizon of several meters long with endless variations of blue and ochre techniques. There is something enjoyable in these tonal harmonies that intertwine like shimmering silks and create water and air atmospheres more than scenery does. These harmonies appear more specifically in the «narrative panorama», drawn in charcoal on metal plates, where realistically represented plants and urban elements  are interspersed with more abstract beaches. This constant back and forth between informal and almost cinematic realism creates a dynamic. The elusive and ephemeral dream literally materializes within the wall sketch the artist has created on one of the gallery walls. The charcoal will leave the temporary trace of movement that  evolves into landscape only to be doomed to disappear at the end of the exhibition ».
​​​​​​​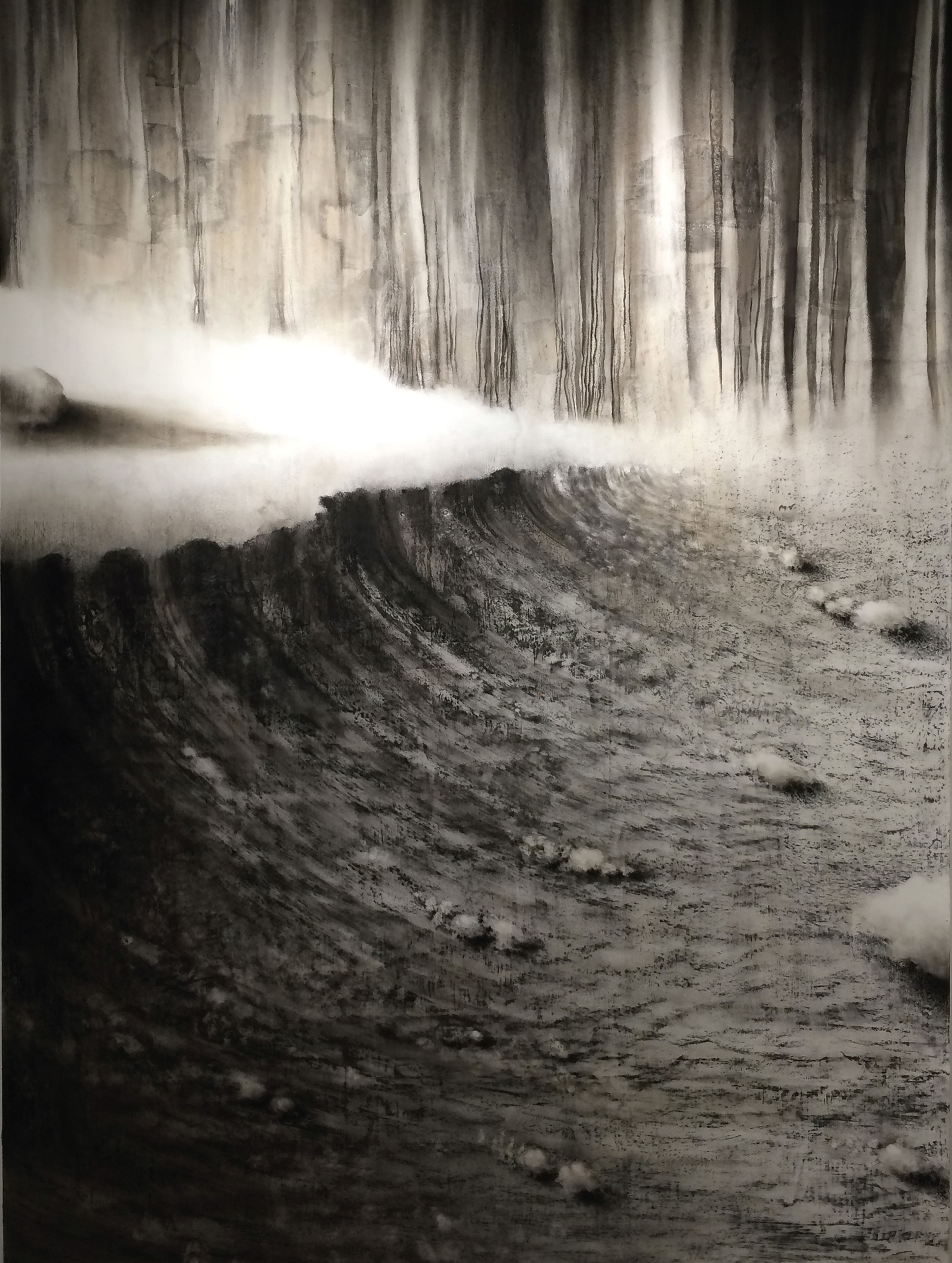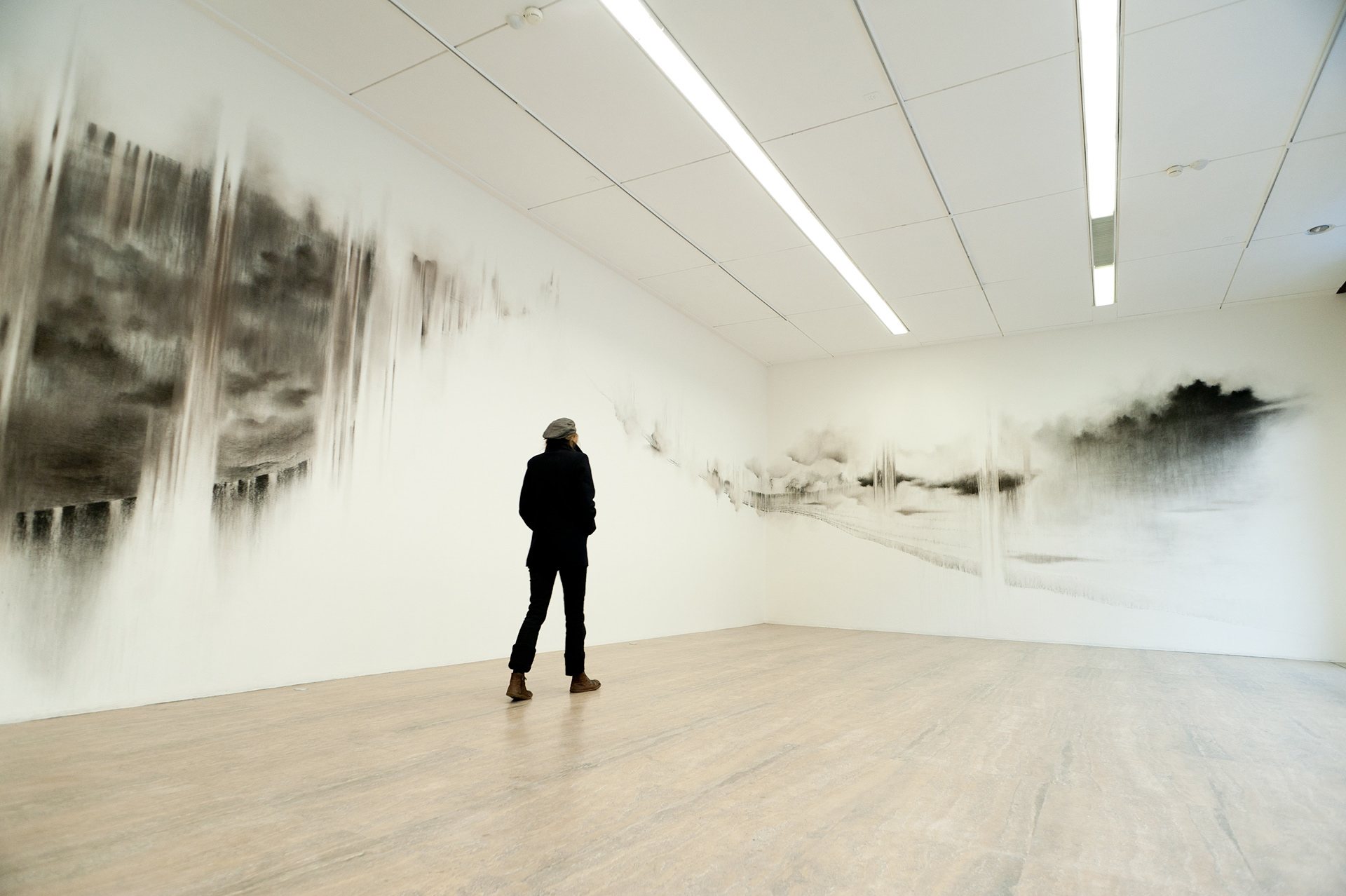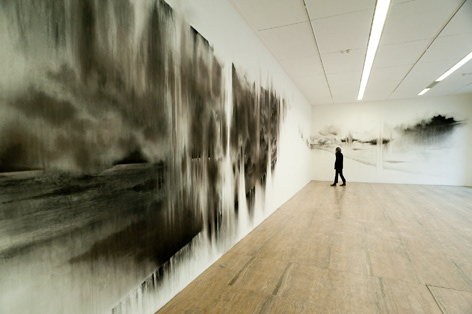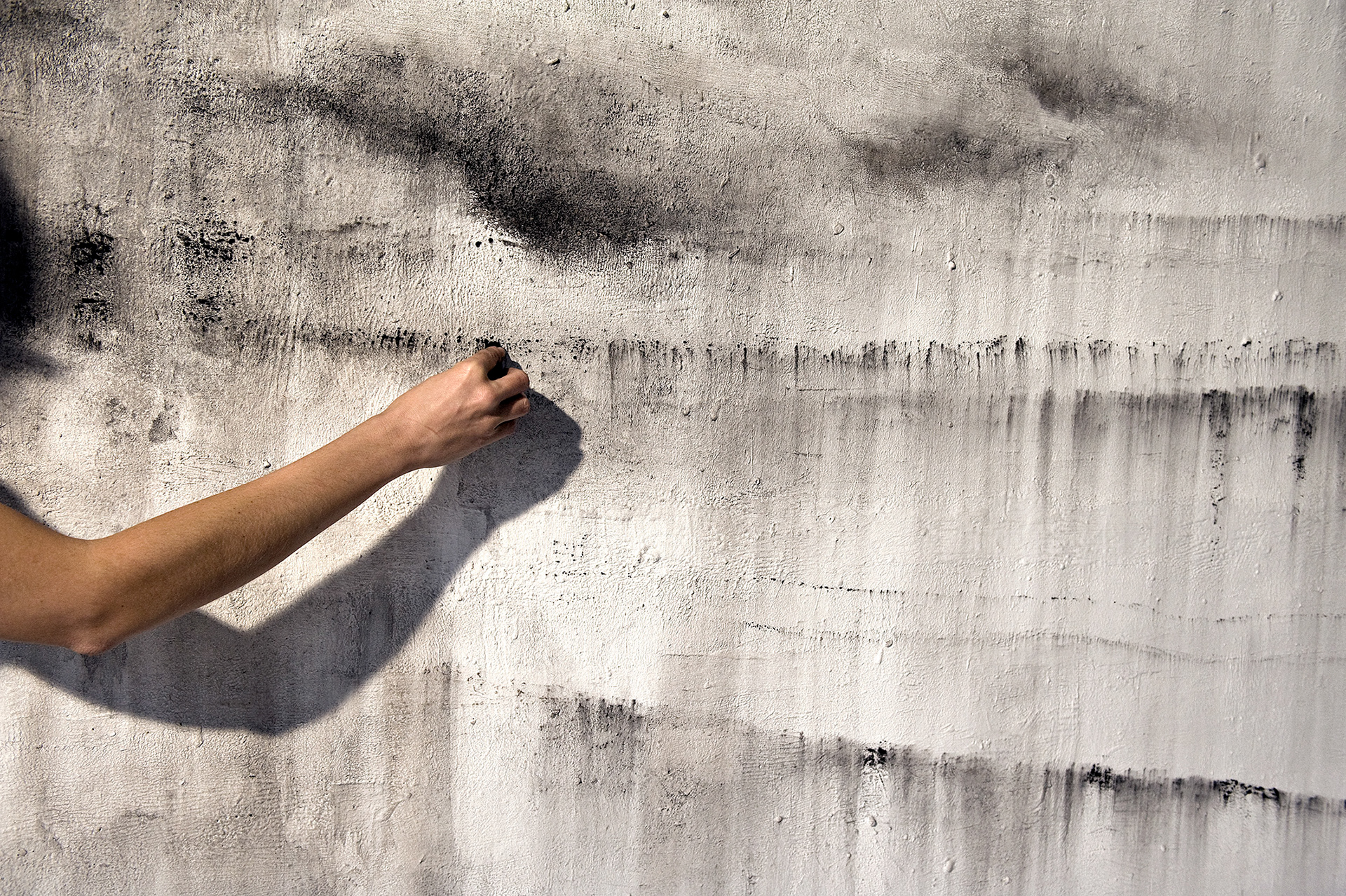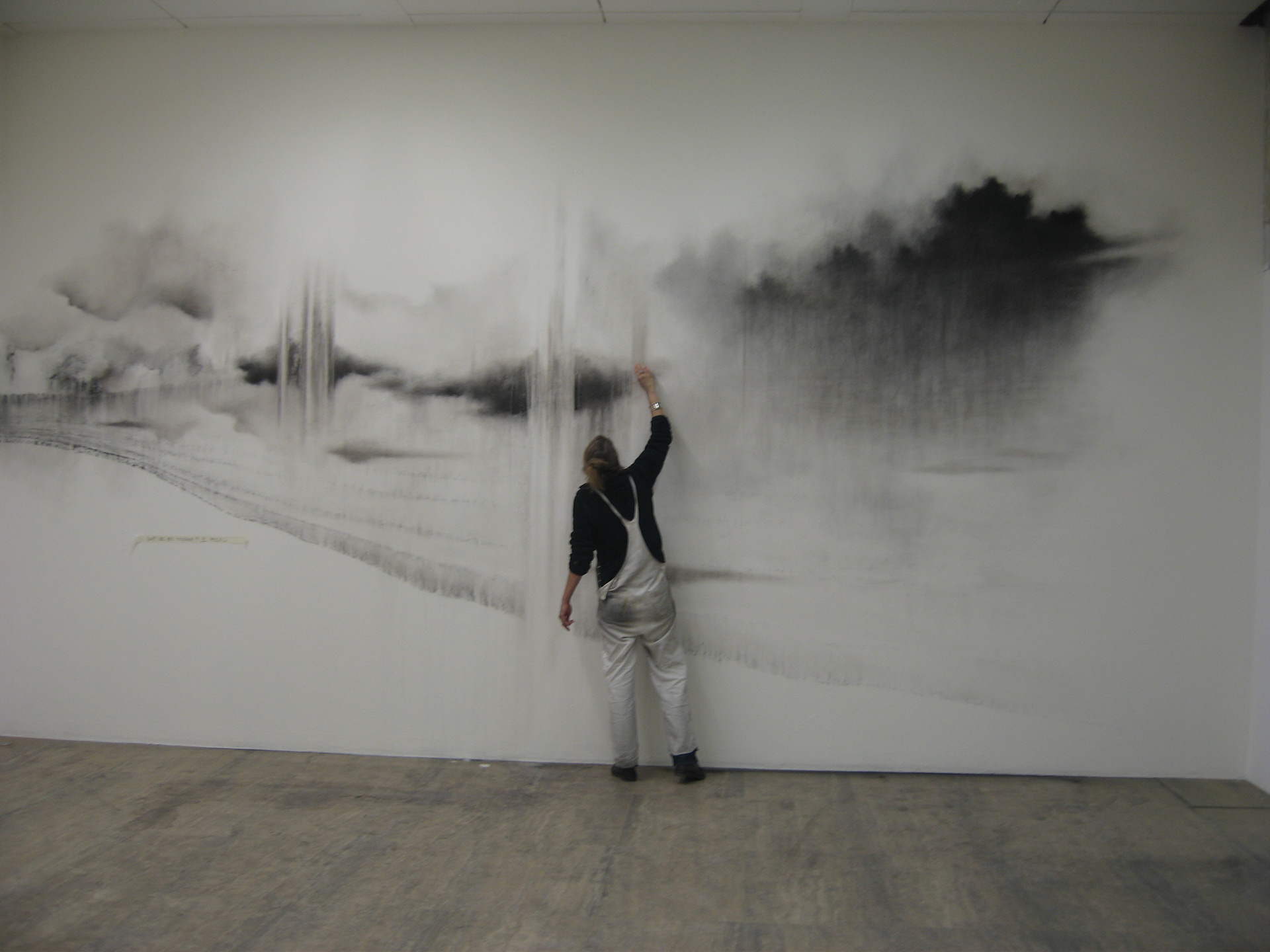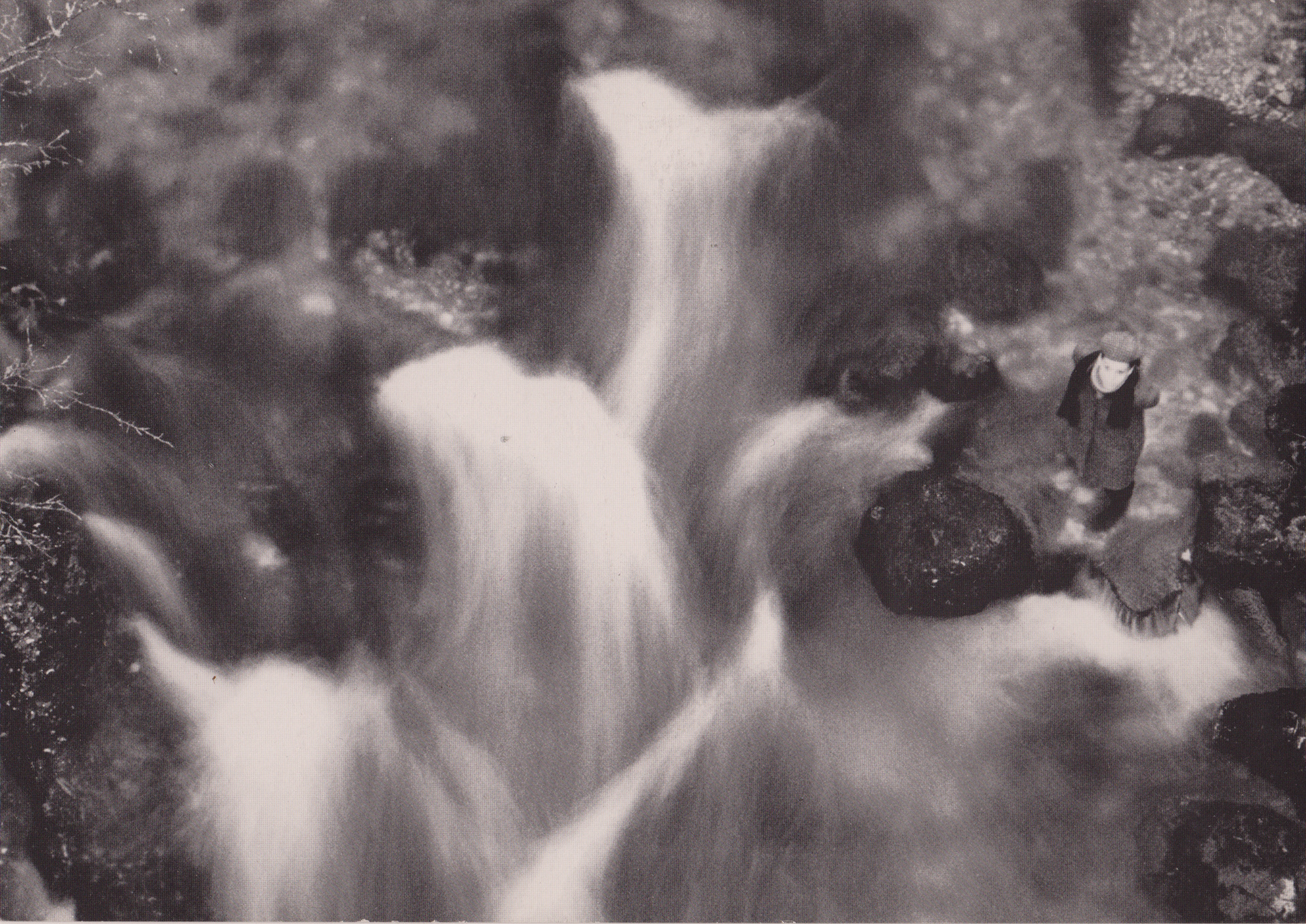 Panne & Formaggio, 2000, Genève