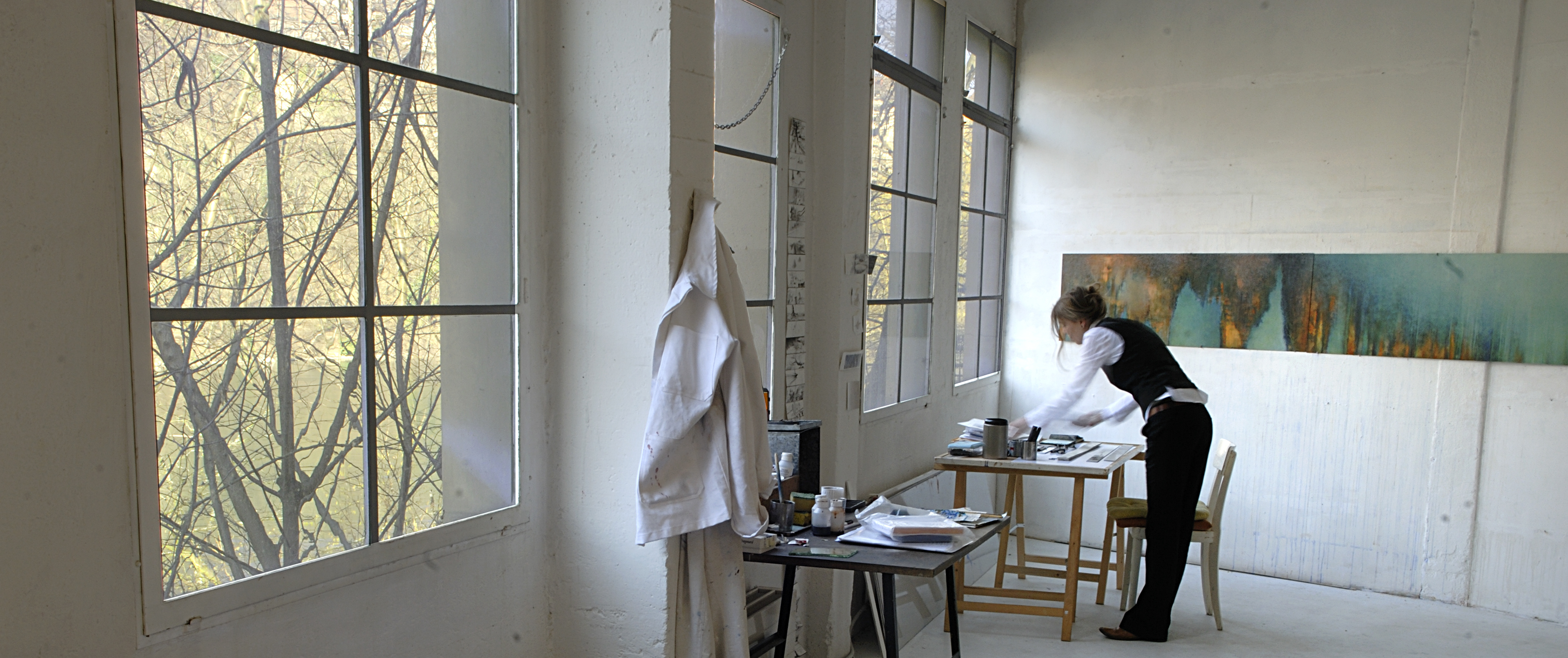 * 13.07.2021 - 27.07.2021
Interventions éphémères dans la ville de Genève
/ Sur
 invitation de la Galerie Andata Ritorno
Rond-point de Plainpalais, Genève
Fonds d'art contemporain de la ville de Genève
Participation à la Revue ARTISTIDE 
Galerie les Dilettantes, Sion
* 15.10.2021 - 27.02.2022
* 06.11.2021 & 07.11.2021
Ateliers portes ouvertes des artistes de Genève                         
13h-19h / Samedi & Dimanche    
* 07.2022 - 08.2022   ​​​​​​​   
Gallery Bis / Dohjidai Gallery
Born in 1975, Ariane Monod studied at the ESAV (now HEAD) in Geneva where she lives and works in her studio at the Usine Kugler. She
 regularly exhibits her paintings and creates mural drawings in Switzerland and in Asia, mainly in Japan.
The elusive ephemerality of the dream literally materializes in her murals. The charcoal leaves a fleeting trace of movement that briefly takes shape and is transformed into a kind of landscape destined to disappea.
In 2019, during her performance on the walls of the Andata Ritorno gallery (Geneva), the art critic Jean-Paul Gavard-Perret pointed out: " Soon nothing will remain of her titanic mural sketch with all its beauty and extravagance... Only a few photographs will remain as a reminder of what is more than just a background, a setting. The visitor will have immersed himself in it to become the moving and full-face subject of these two works that are as disturbing as they are beautiful. Sacrifice follows their extravagance".
These marks destined to disappear do not scare her. The artist enjoys this experience that takes place in a defined time and place, where improvisation is filled with introspection.
"... The waves appear thus, the surf, the turmoil, the wind, the aquatic aftermath that seem to be calls to the open sea of the unknown, of the unspeakable and of both the marine and celestial imaginary... If poetry may have a certain power to transmit and inspire painting, there are works where words are relegated to the inadequacy of language and leave you in the exquisite awe of the sole delectation of your open eyes ".
Joseph Farine, artistic director, Andata Ritorno, Geneva, 2019
DRAWING WALLS
​​​​​​​​​​​​​​
" If poetry perhaps has the power to transmit and breathe painting, it is works in which words are relegated to the insufficiency of language and leave you with the exquisite stupor of the only delight of the open eyes ".
For Ariane Monod, the happiness of this exhibition of September 2019.
Joseph, Farine, Andata Ritorno, Genève 
Attracted by panoramic views offering infinite reading and implying a trajectory, my pictorial research is about layouts, expanses in which a flow of elements venture through an imaginary world. I pursue this research on horizontal, panoramic formats, so that stories of rhythms, atmospheres are fold and can be read. My inspiration is  a parchment that rolls out its story infinitely. I am particularly interested and concerned by lateral visions. Mostly in large dimensions, the formats are chosen according to a vision on a human scale. Horizontality allows a lateral view that carries on and extends further and further, beyond its limits... I try to establish interactions with the spectator who observe the images through successive plans by moving from one point to another. 
« This 21 m x 4 meter ephemeral drawing, in charcoal and water, covers one of the white walls of the Halle Nord and invites the viewer to enter it. The path leading to the heart of an imaginary organ opens on the right of the sketch, double black lines that support its ellipse guide the traveller through imaginary forms, leads the eye to the turn to the strange forest amalgam that emerges on the white wall's hori- zon. And biased, look at distance interferes with the relief and entering unknown, the volumes that bypasses the usual leads to interpret seeks exit this maze of effects of light and shadow that does not close, which do not fear. The game is as prospects carved in the same material, opti- cal game of more or less faded black, white and shades of gray. Volumes rise and fall rhythmically when on approach and then not duplicate this tempo to keep the prospect of seeing, reading like a scroll infinite landscape that unfolds, that seems to resonate beyond its limitations, such as pulse beating on the wall space left blank. Research by Ariane Monod in this work of great technical mastery explores in a dreamlike way the boundaries between abstraction and figuration. Indeed, her use of charcoal, so- metimes scraped or smoothed, drops of water and sponges for dimming effects aim to create a continuum of abstract elements; the effect of rate and depth, an atmosphere and the appearance of a path. However, the reaction of the viewer is often to decompose this relief to interpret the elements as clouds, mountain mist or vapor ".
Sophie Gander, 2012
​​​​​​​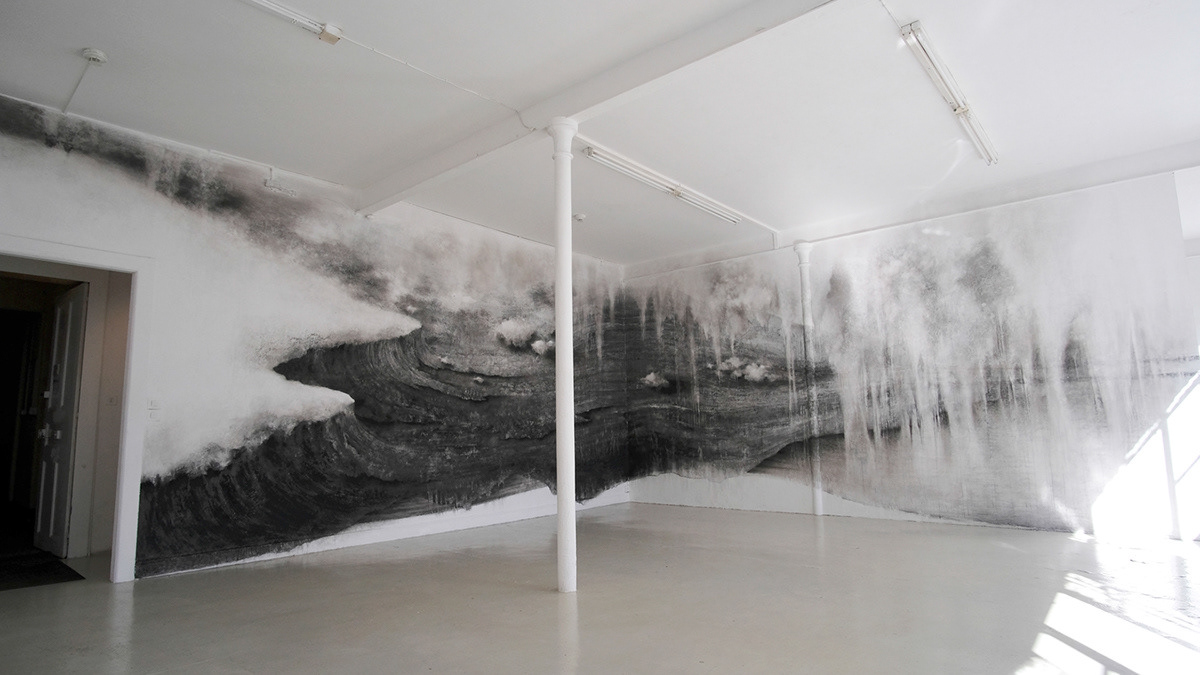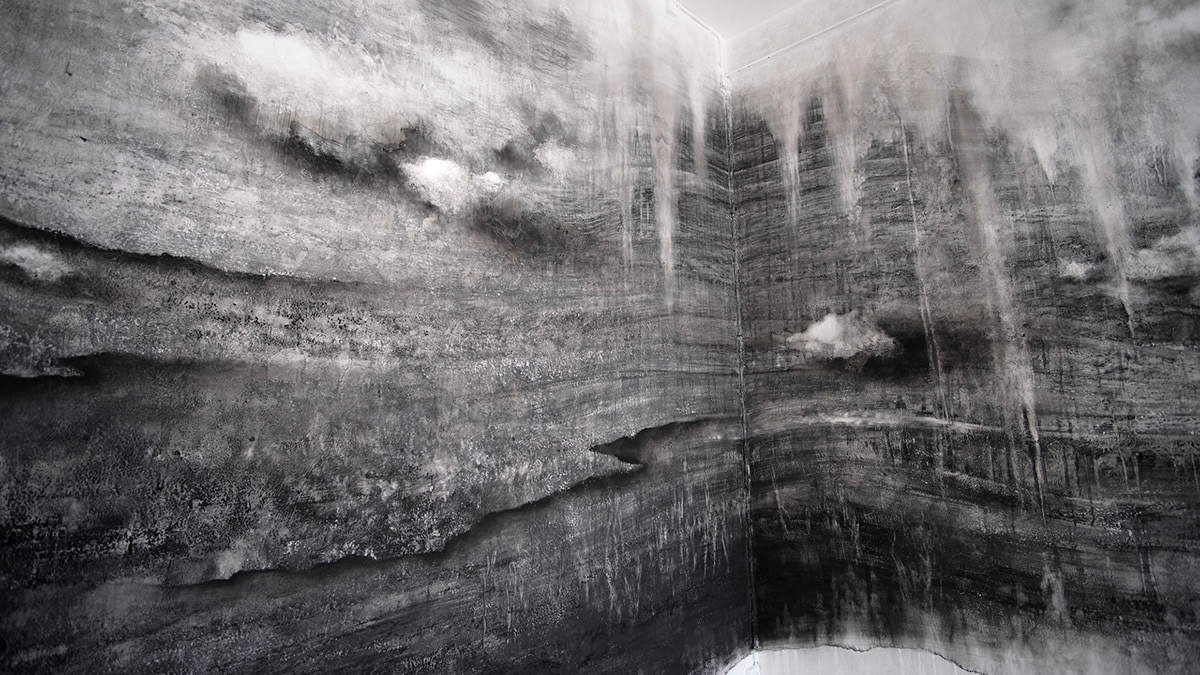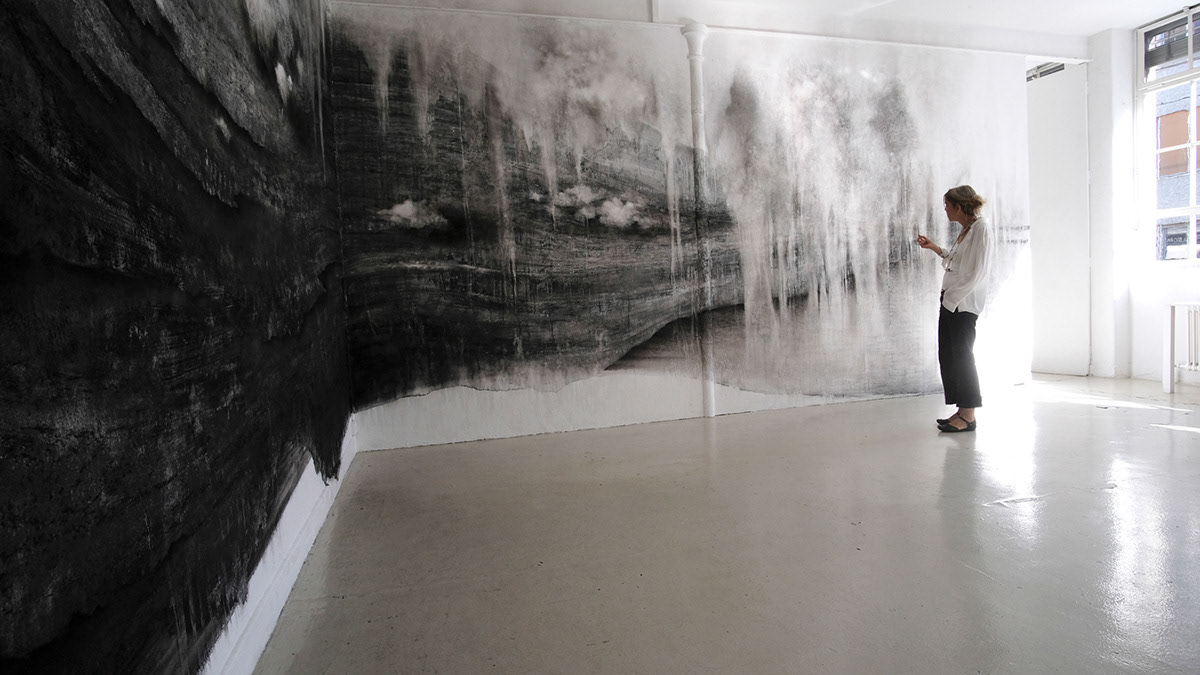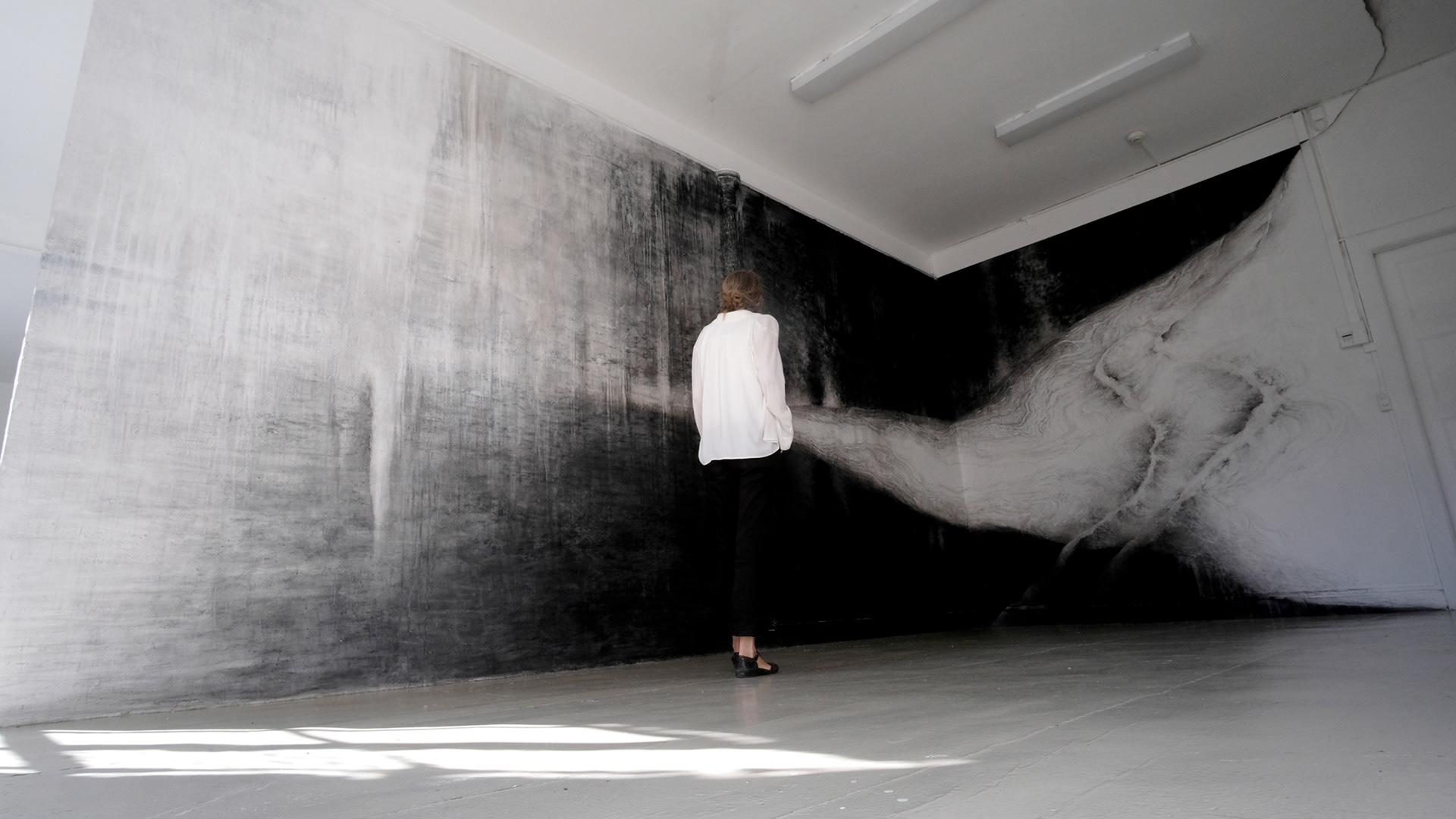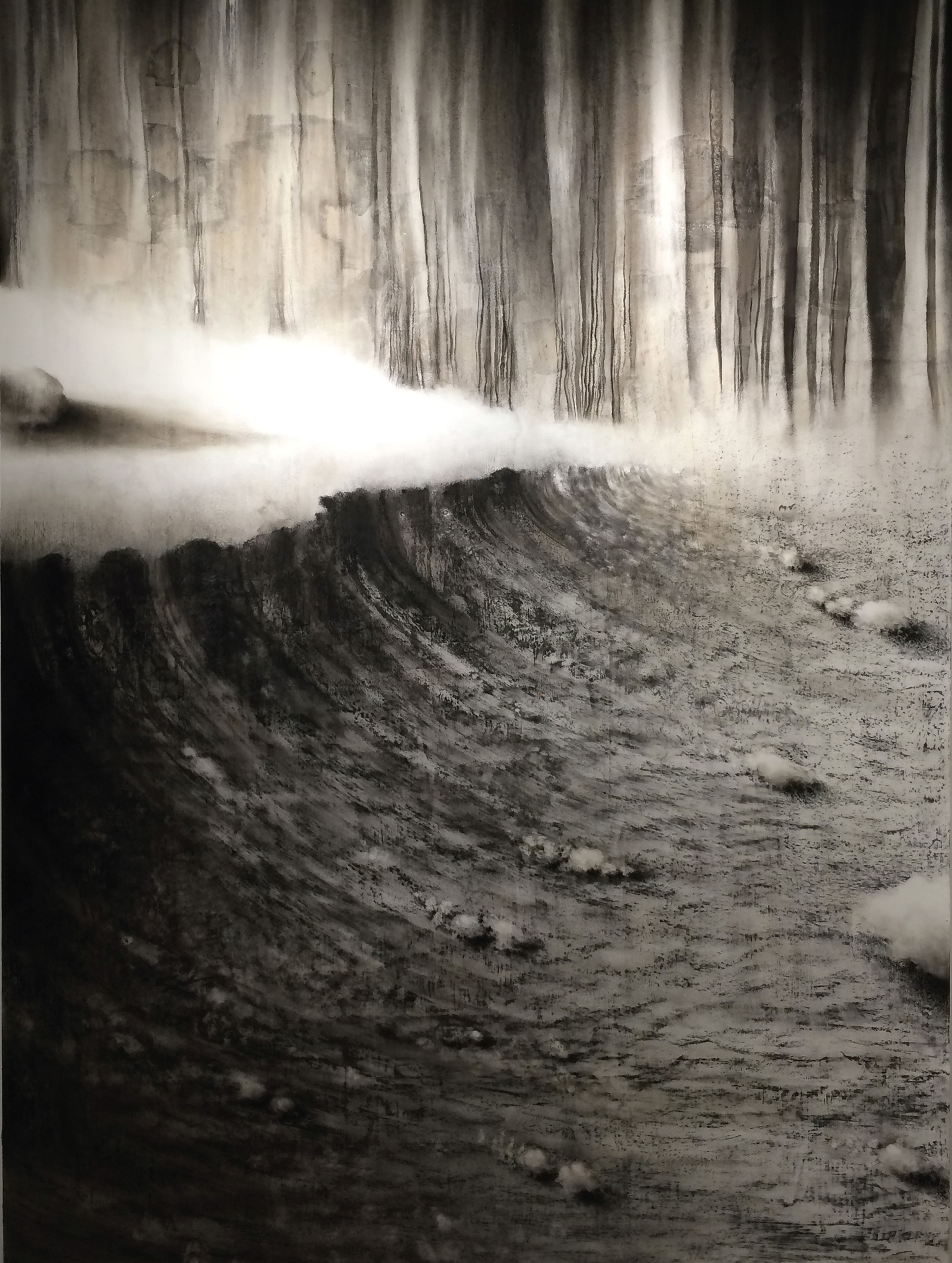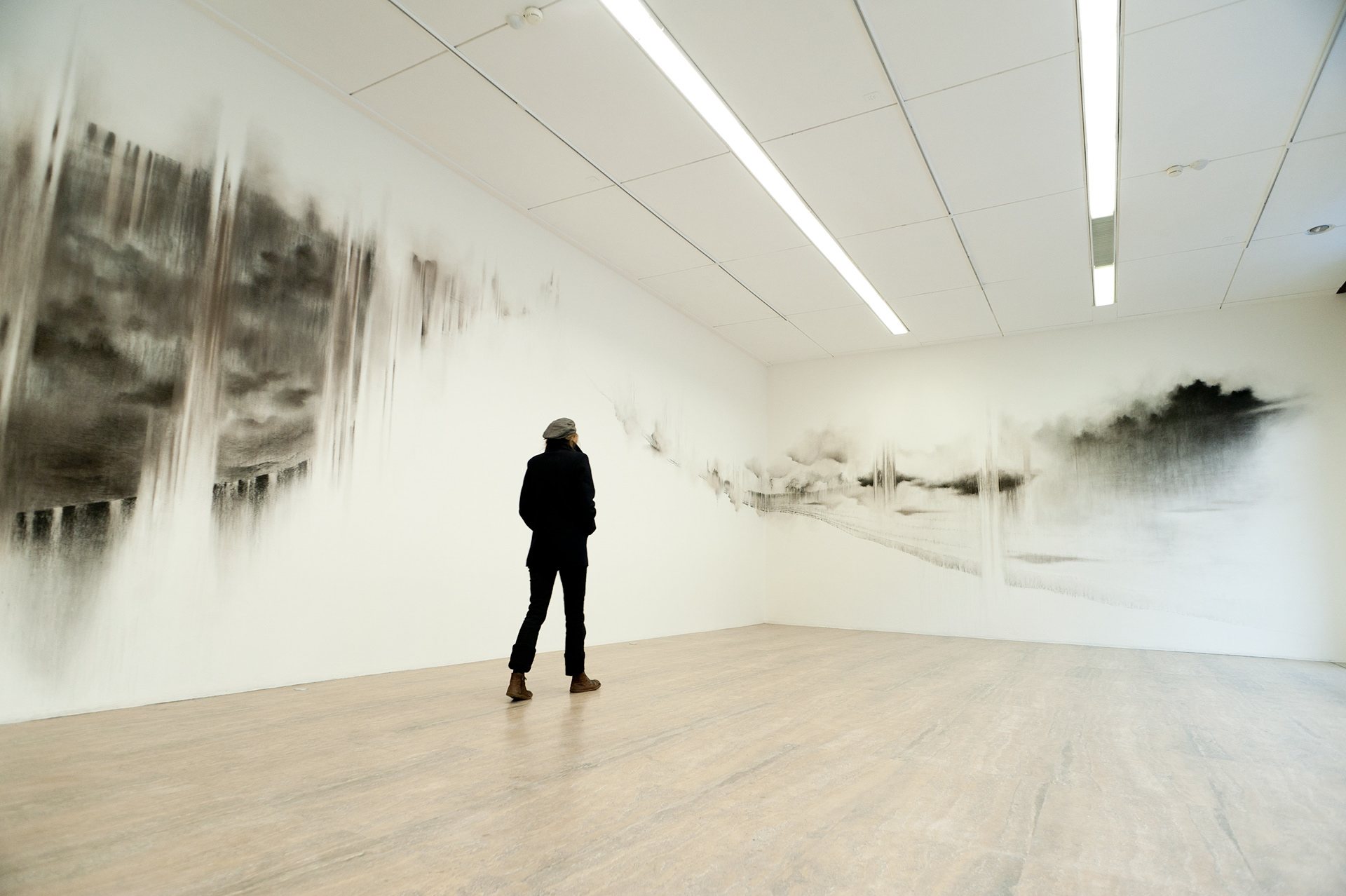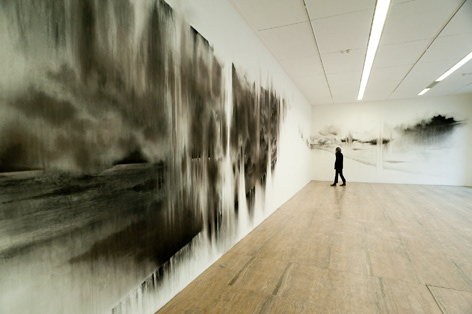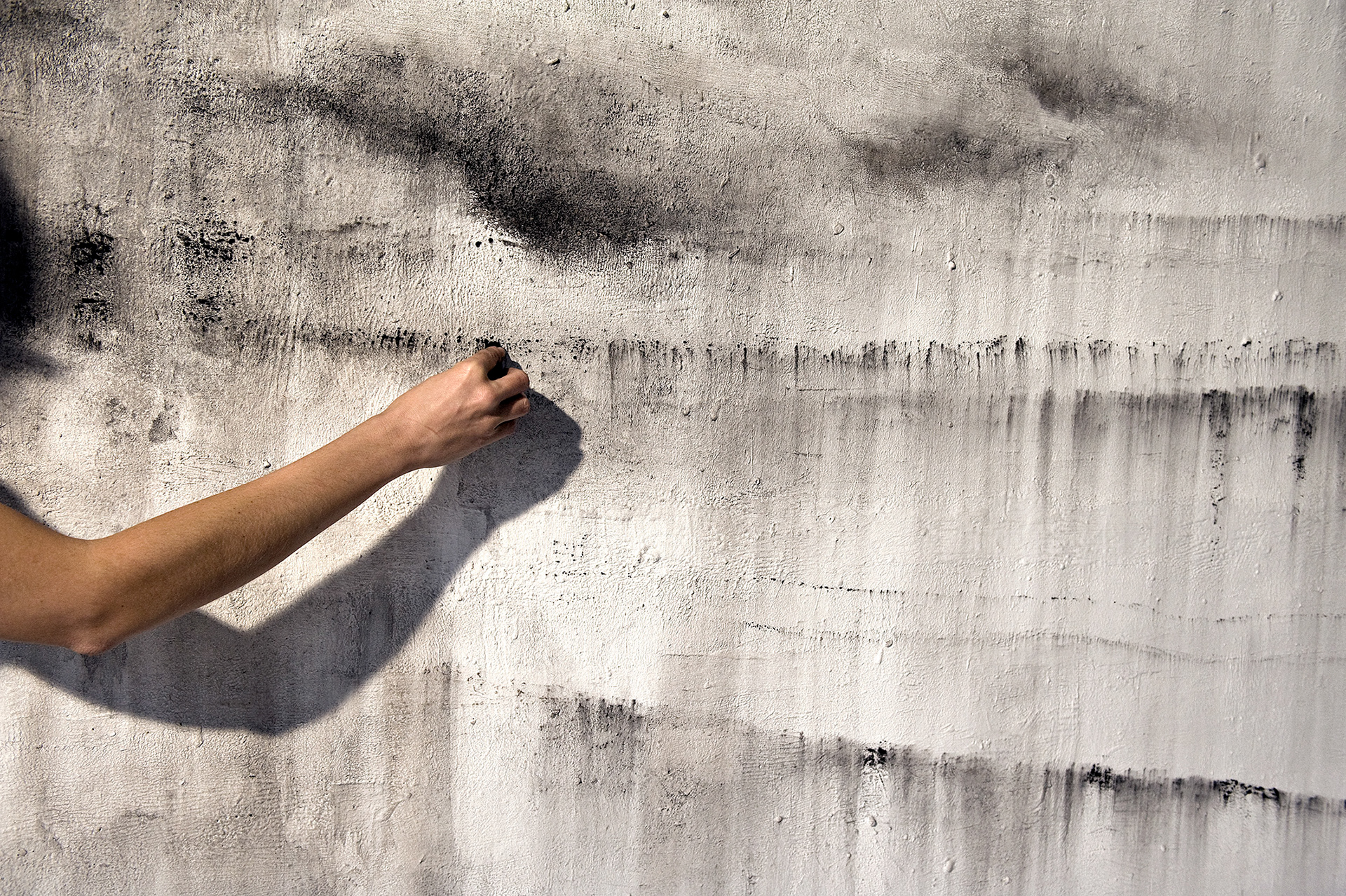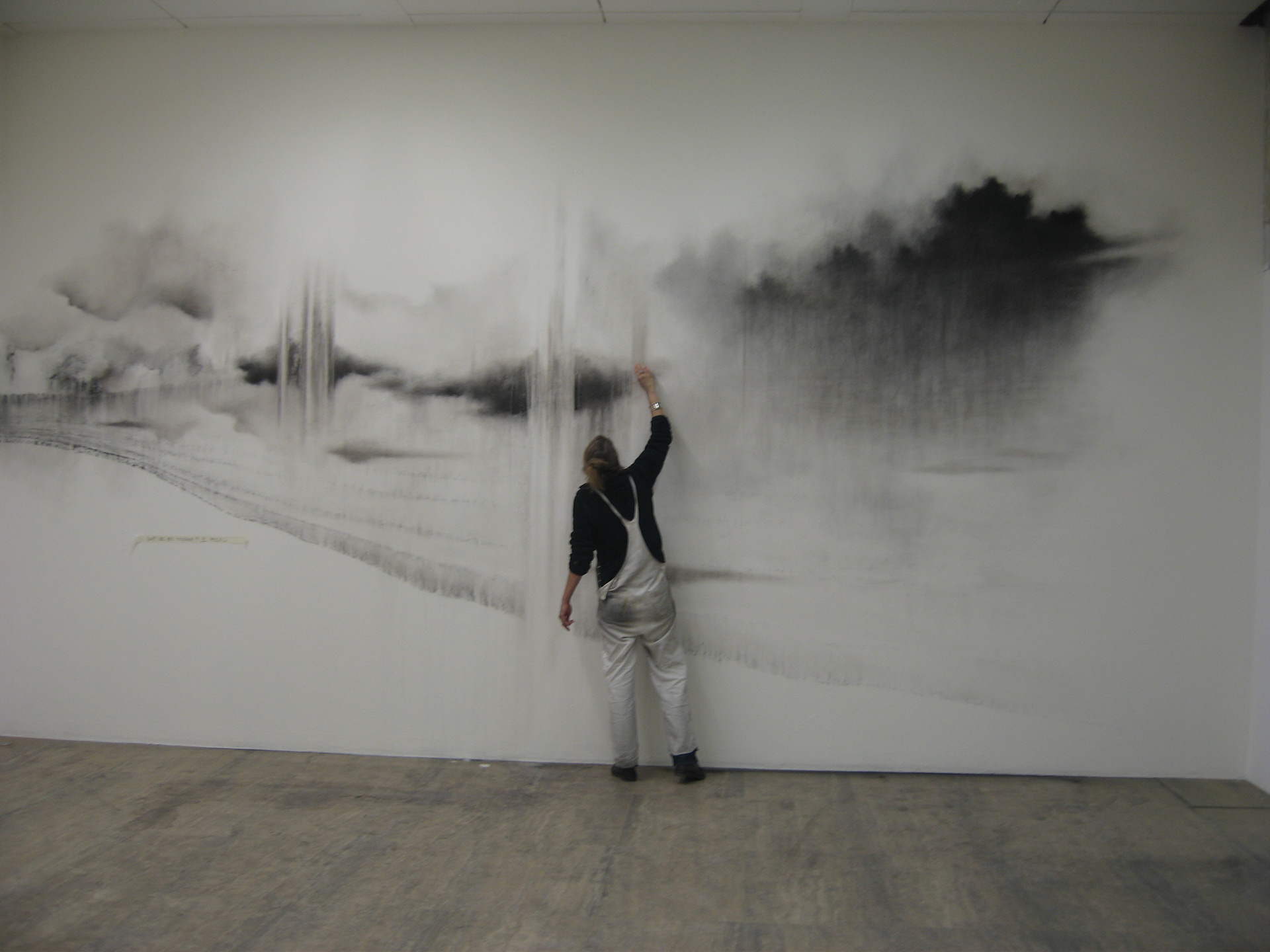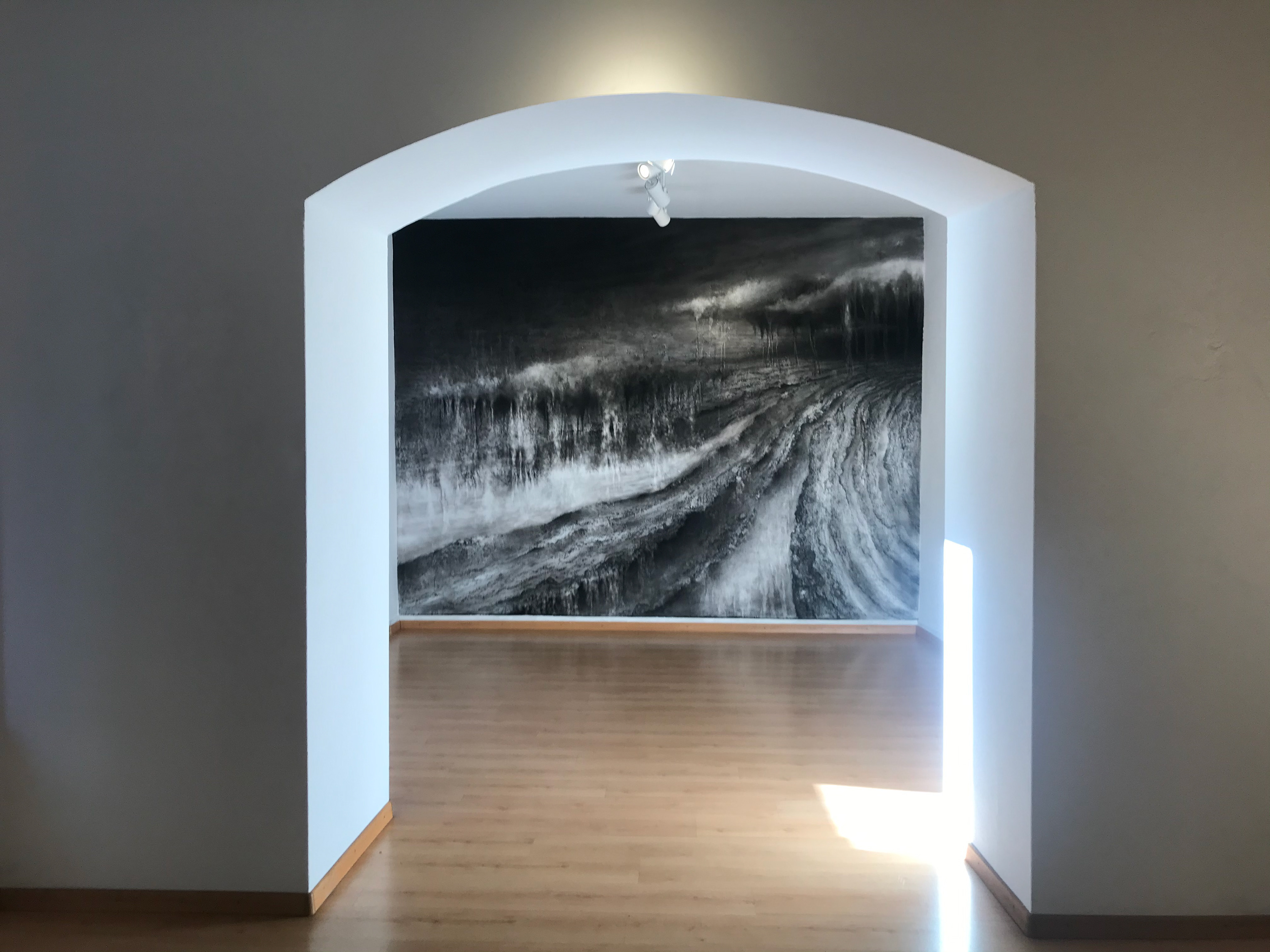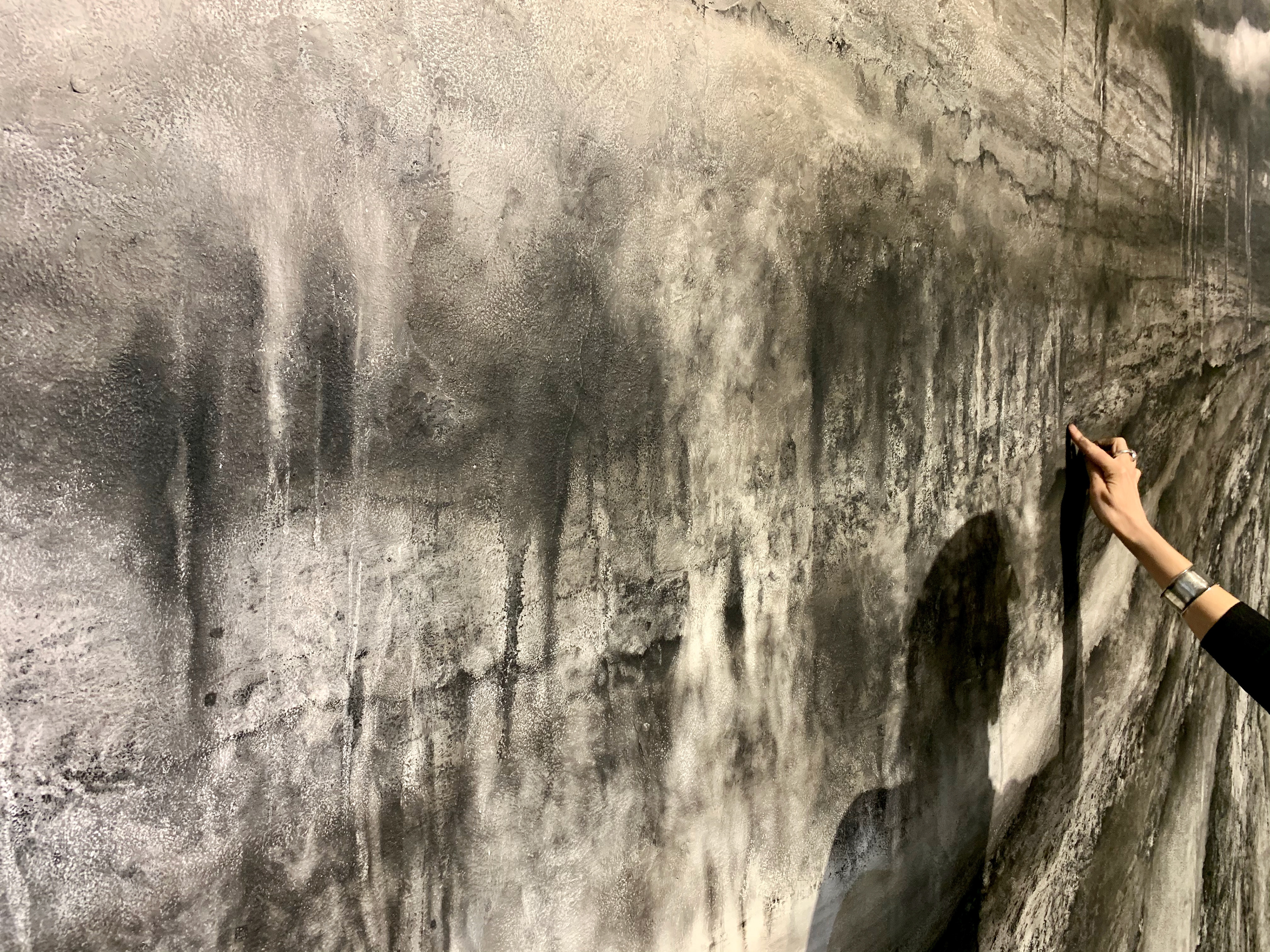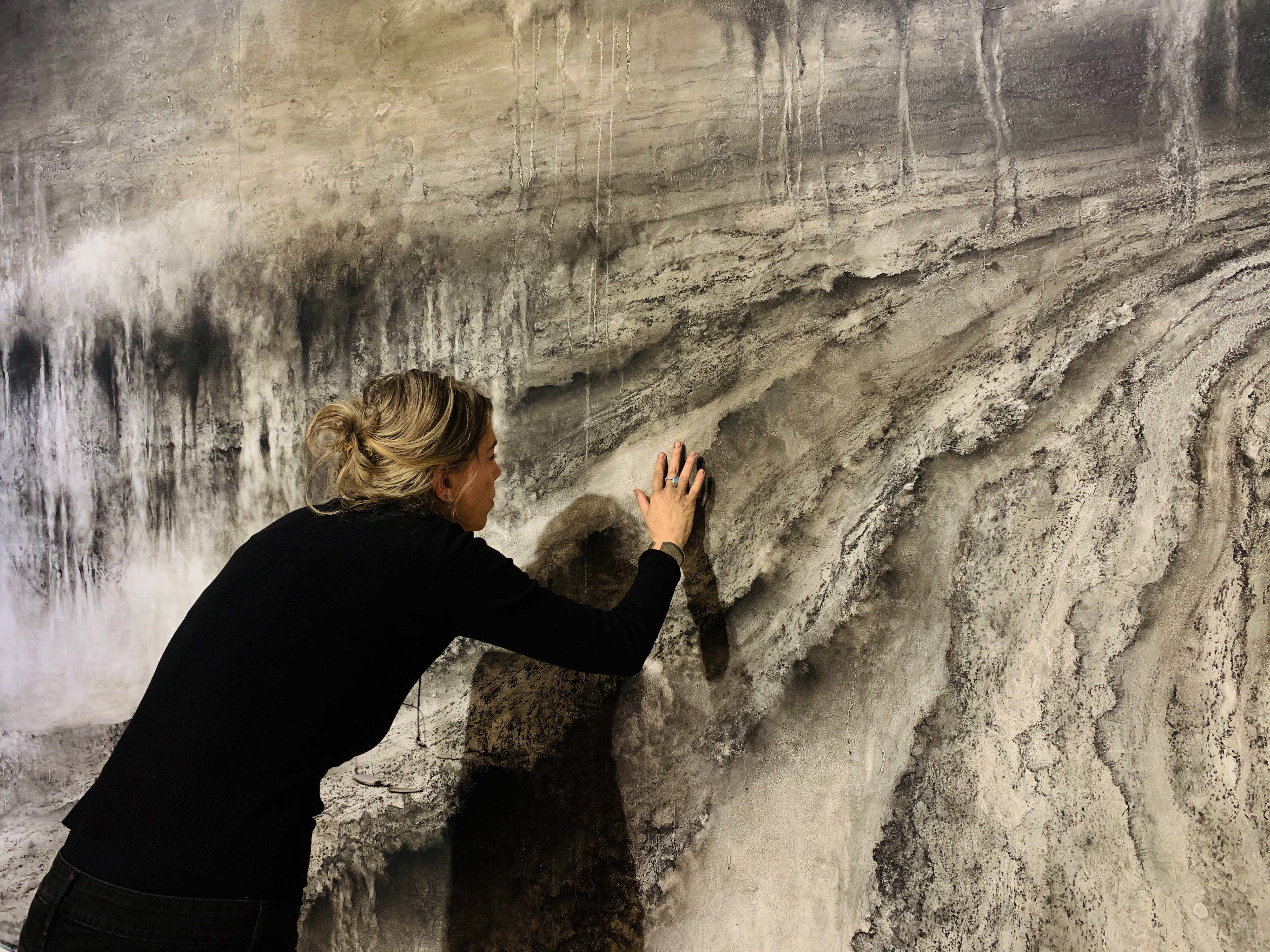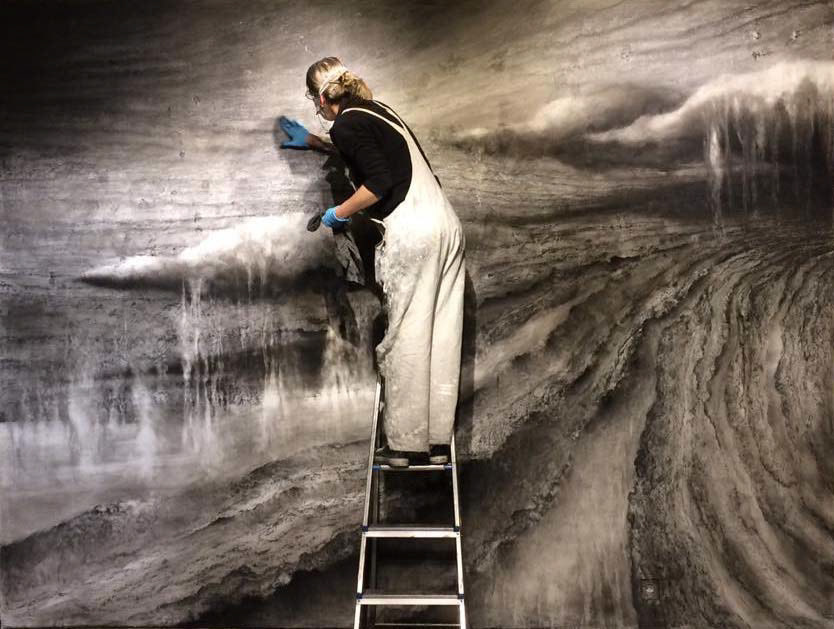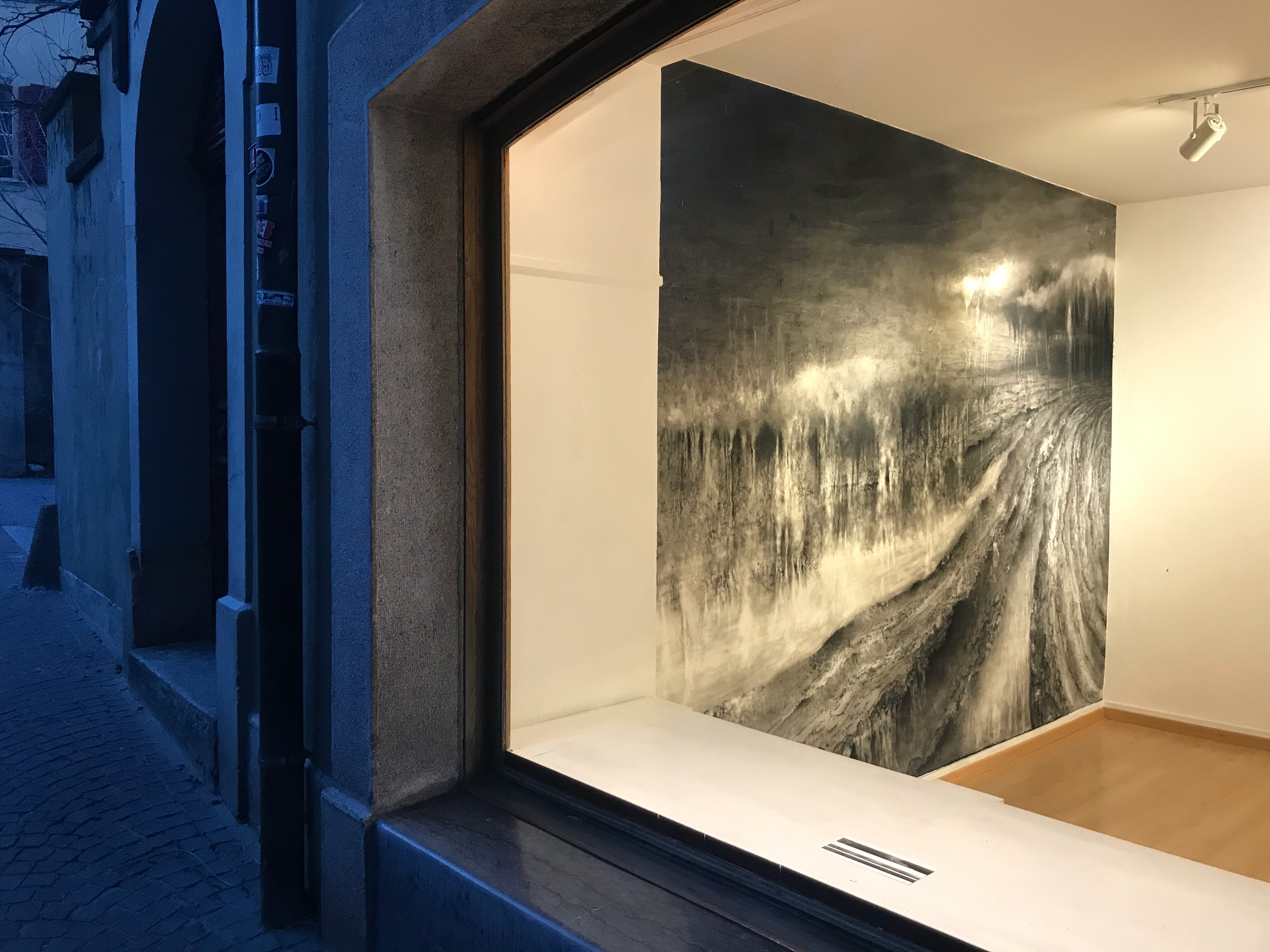 Continuation of charcoal on aluminium & bottom adhering / 2010-2019
For some time, I made a series of works inspired by many drawings made in Asia (2005 to 2013).  On primed aluminium plates joined to a background, I charcoal elements  which are fictionally processed in my memory. This panoramically designed and installed sequence of images,  tells a series of memories that intermingle. Certain areas are blurred or fuzzy and gradually lead to a transition image. These images are punctuated by phases of these absences which can drag gradually, and without noticing it merge intoanother, travelling through different perspectives ...  like  a travelling image.
"Akin to fine strips of parchment or film, Ariane Monod's charcoal panoramics read  like graphic narratives without words or boxes, colliding with memories of distant places in time and space. Much as in the memory process, these memories were decanted by time or repetition, transfigured by emotion, then fiction, which in turn have dressed their mistakes, impressions and inaccuracies. Despite their appearance of black and white clichés, these panoramics were inspired by drawings and travel sketches exploring a fantasy world, where changes in perspective, diversions and reversals of perspective, ellipses and transitions such as those between two  dreams, evoke an imaginary narration». Sophie Gander, 2011    

















Paintings / 
Oil on aluminum & bottom adhering
I paint with natural pigments associated with various mediums in successive layers on aluminium plates. Aluminium plates, in various formats, allow me to assemble and create large polyptics. In selected locations, I install the paintings with small invisible nails. These allow me to integrate the image into the wall, so that it appears like a mural. 
« Since her resins with strange depths between transparency and opacity, Ariane Monod has always been interested in working with materials and textures to create her interior landscapes that are not. Deprived of the thickness resin offers, she transferred this depth ontos thin aluminium plates, where the mere juxtaposition of  pigments worked into ttextures creates the depth of the field. In these large-format elongated works,most often horizontal  and sometimes combined in diptych or triptych, it is Ariane Monod's sense of color pairings which  transform into  all the splendor and vivacity of the spigments. The audience, brought to interpret the vastrhythmics of colour, sees kinds of inner landscapes, although the artist's work focuses solely on indefinite abstract shapes, never geometric ones, on the rendering of atmospheres and matter. Reading rhythms are induced by the horizontal format, which on the one hand, implies a shift - reading - across the painting and. on the other hand, allows the movement to decenter one's vision, thus prohibiting a frontal gaze  in favour of a side view which forces changes in viewing angles ». Sophie Gander, October 2011           
« In panoramic format, the paintings and charcoal works of Ariane Monod use the wall as a parade of memories the artist has accumulated  throughout her travels. The images fluctuate continuously; their form and informal horizontal sequence of tones have the evanescent quality of memory and dreams, like a film that fully develops before our eyes. Perfectly controlled, superimposed and juxtaposed visual pigments on metal plates create a horizon of several meters long with endless variations of blue and ochre techniques. There is something enjoyable in these tonal harmonies that intertwine like shimmering silks and create water and air atmospheres more than scenery does. These harmonies appear more specifically in the «narrative panorama», drawn in charcoal on metal plates, where realistically represented plants and urban elements  are interspersed with more abstract beaches. This constant back and forth between informal and almost cinematic realism creates a dynamic. The elusive and ephemeral dream literally materializes within the wall sketch the artist has created on one of the gallery walls. The charcoal will leave the temporary trace of movement that  evolves into landscape only to be doomed to disappear at the end of the exhibition ». Nicole Kunz, 2013   
​​​​​​​​​​​​​​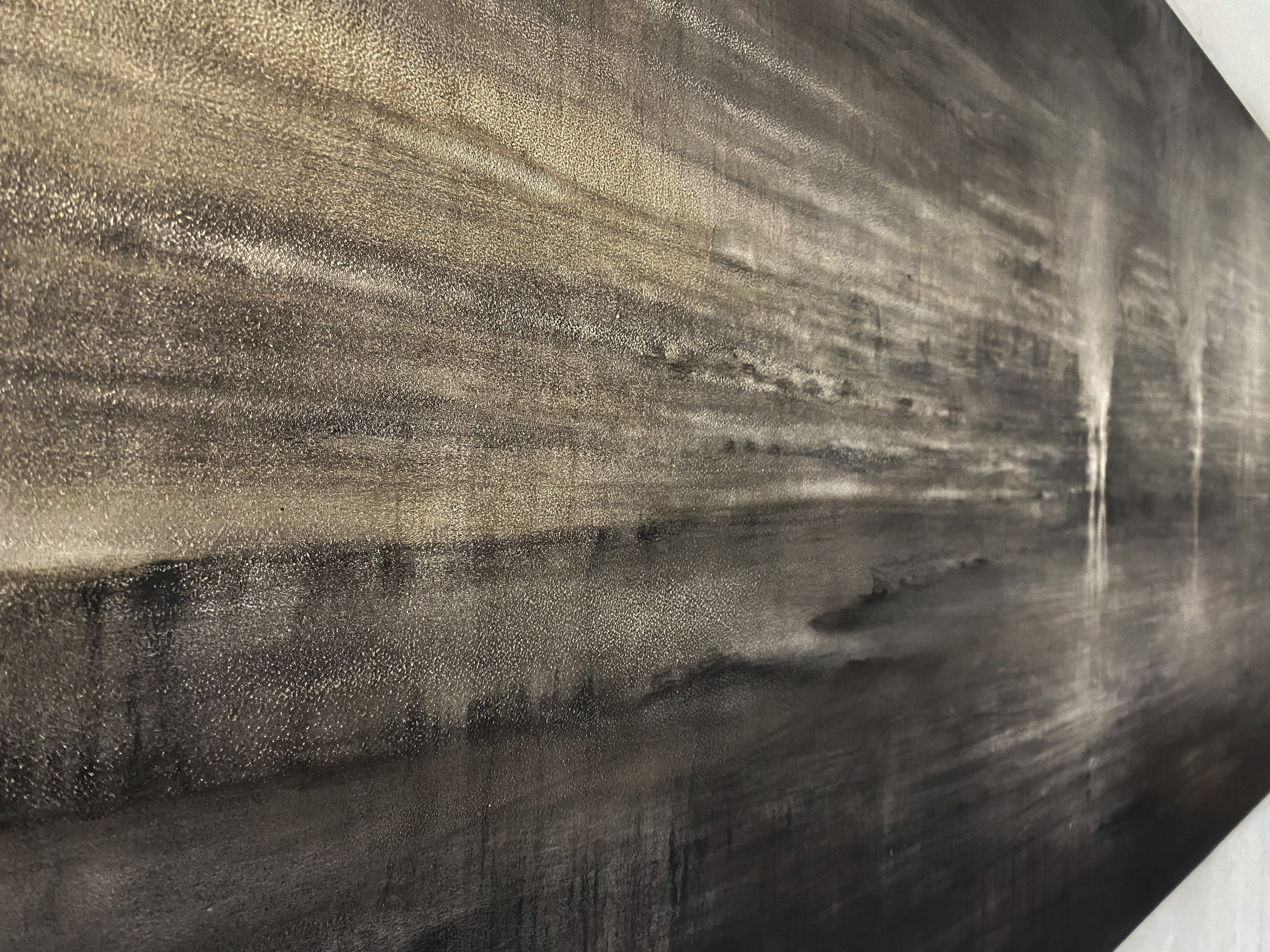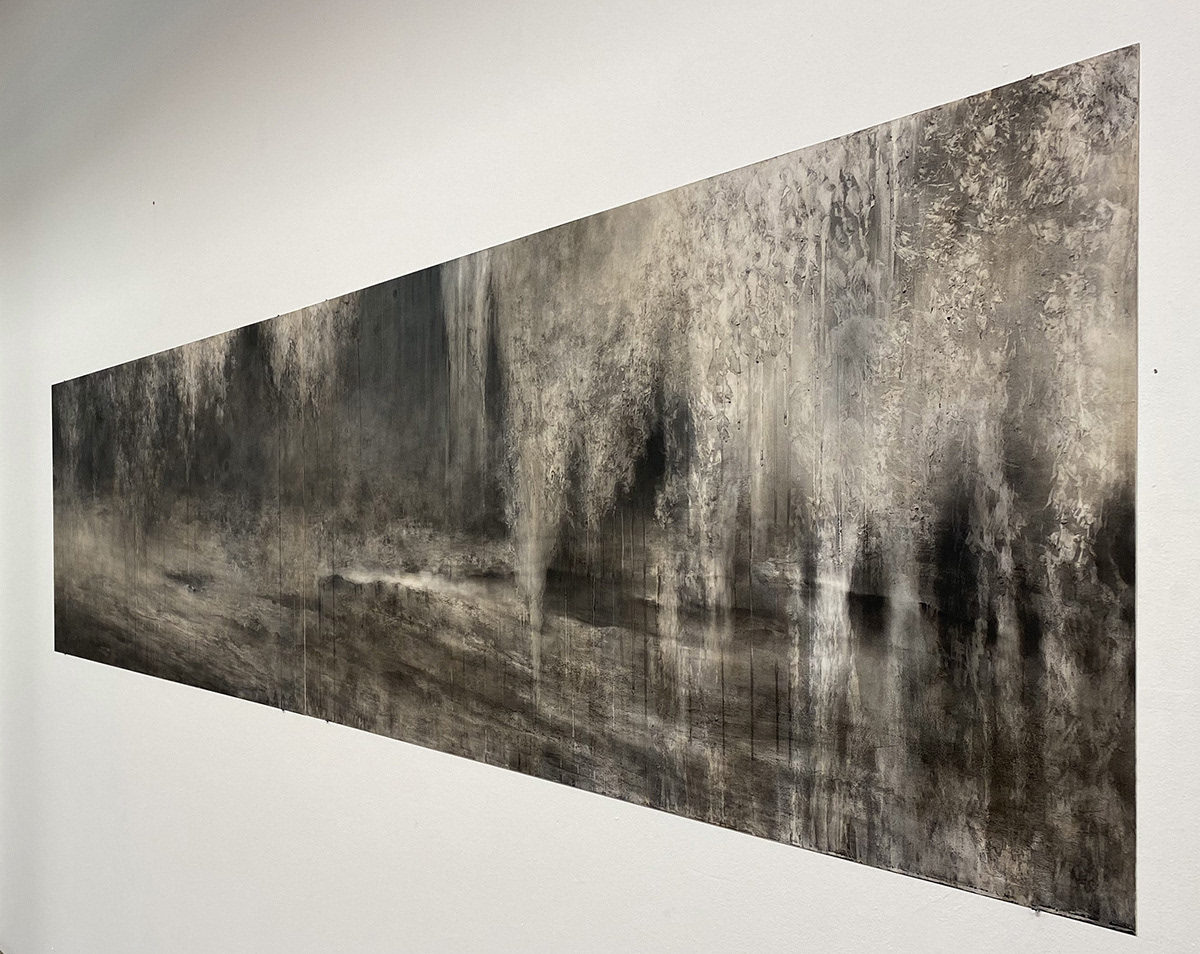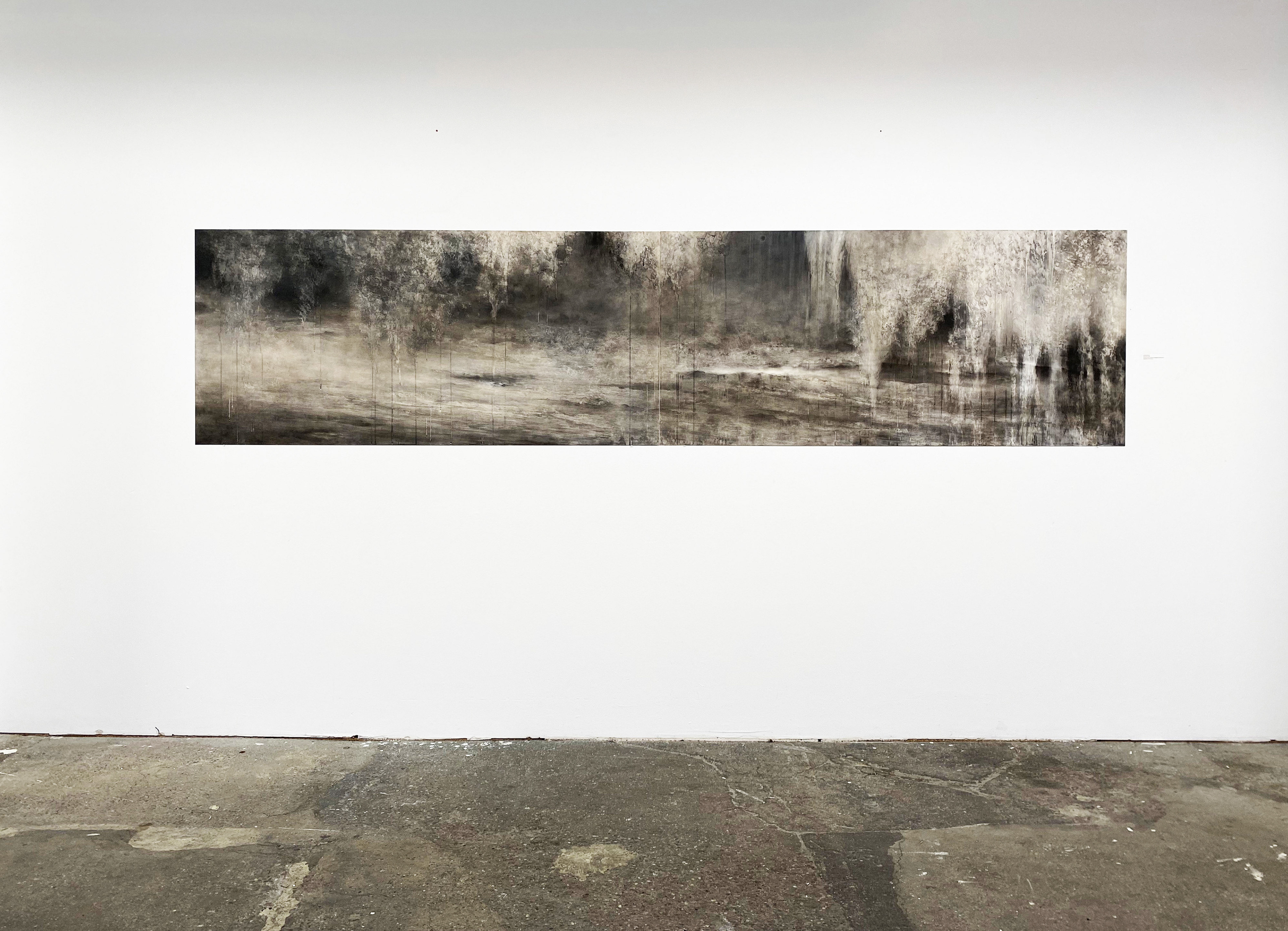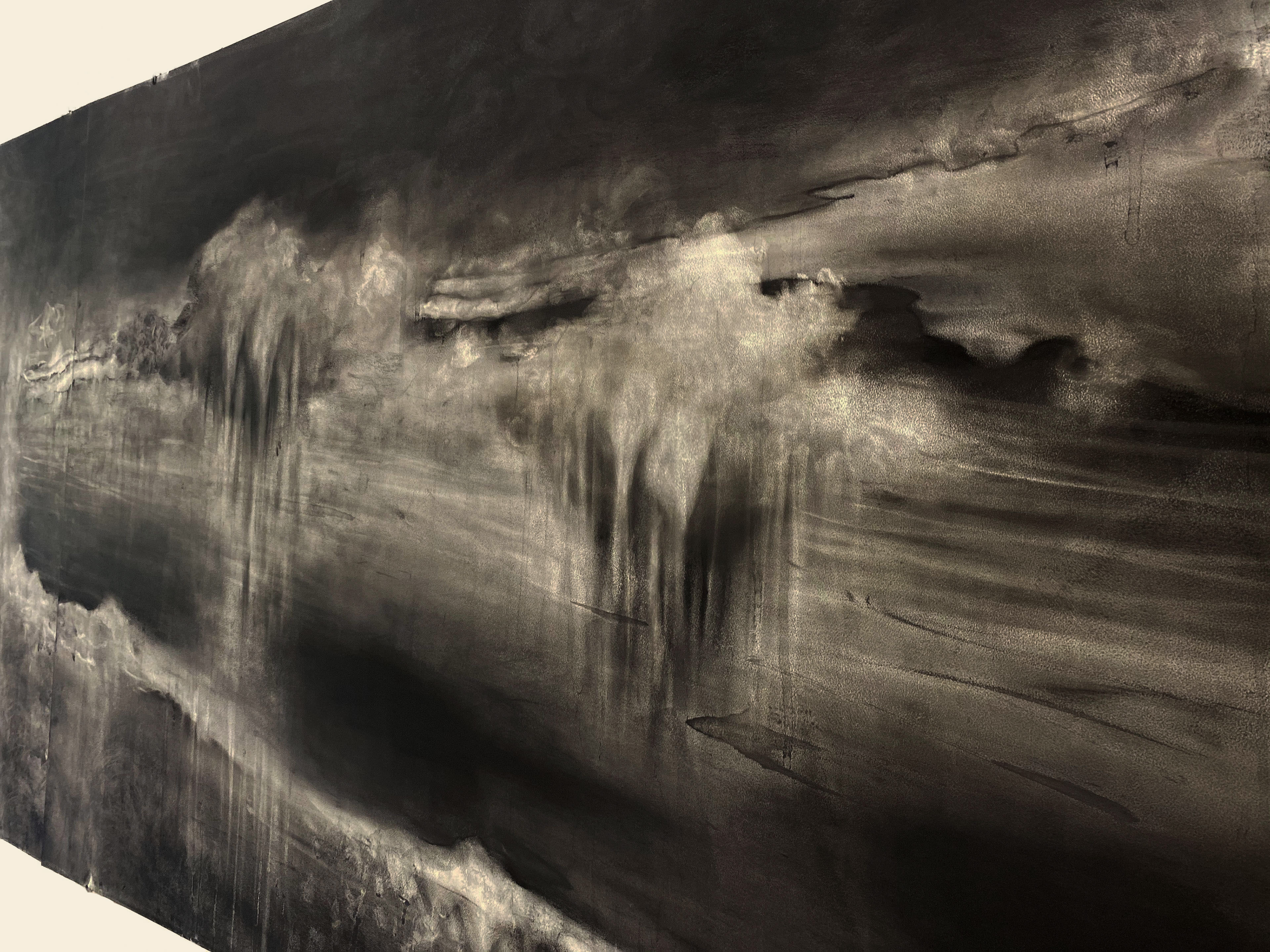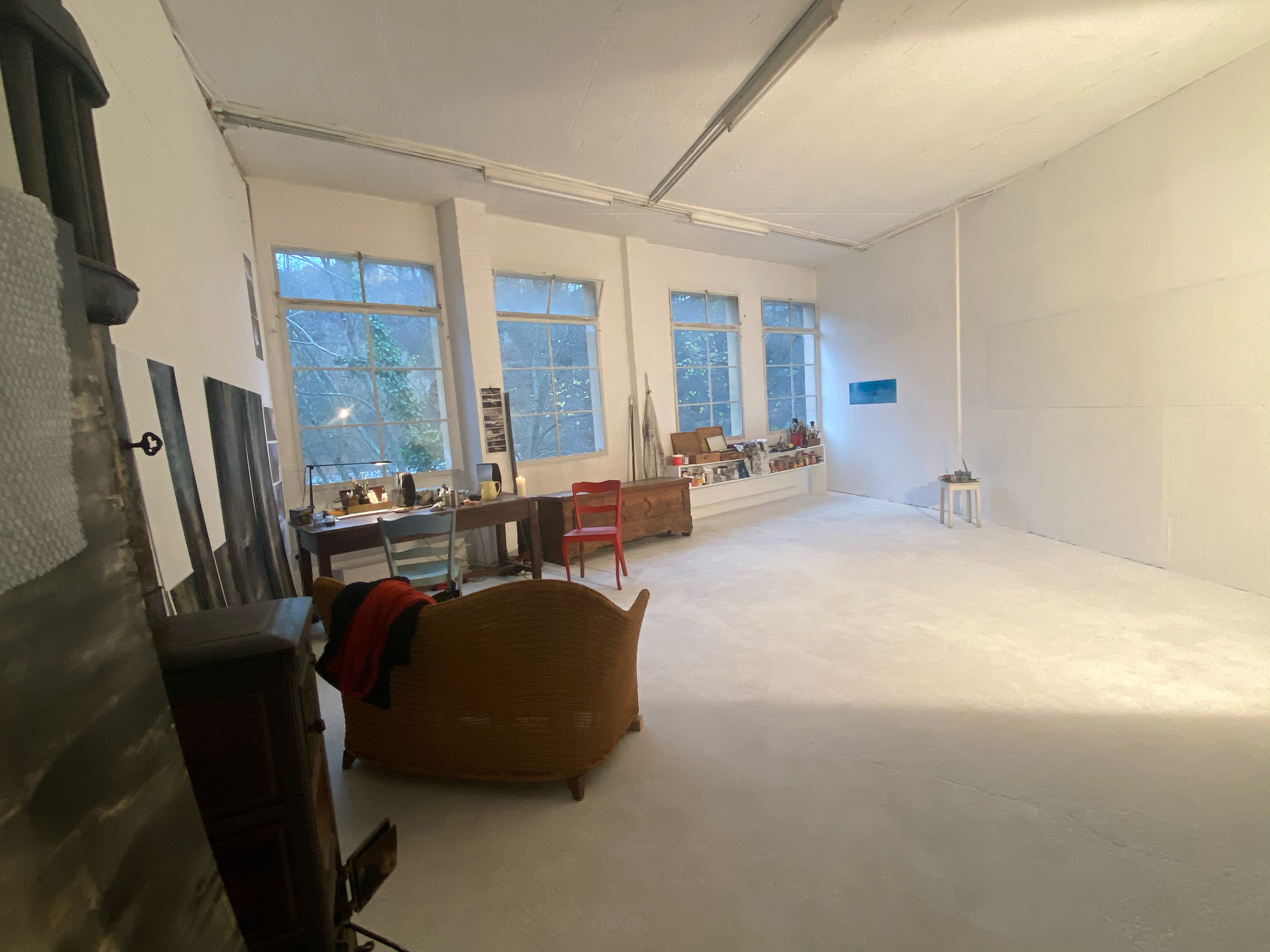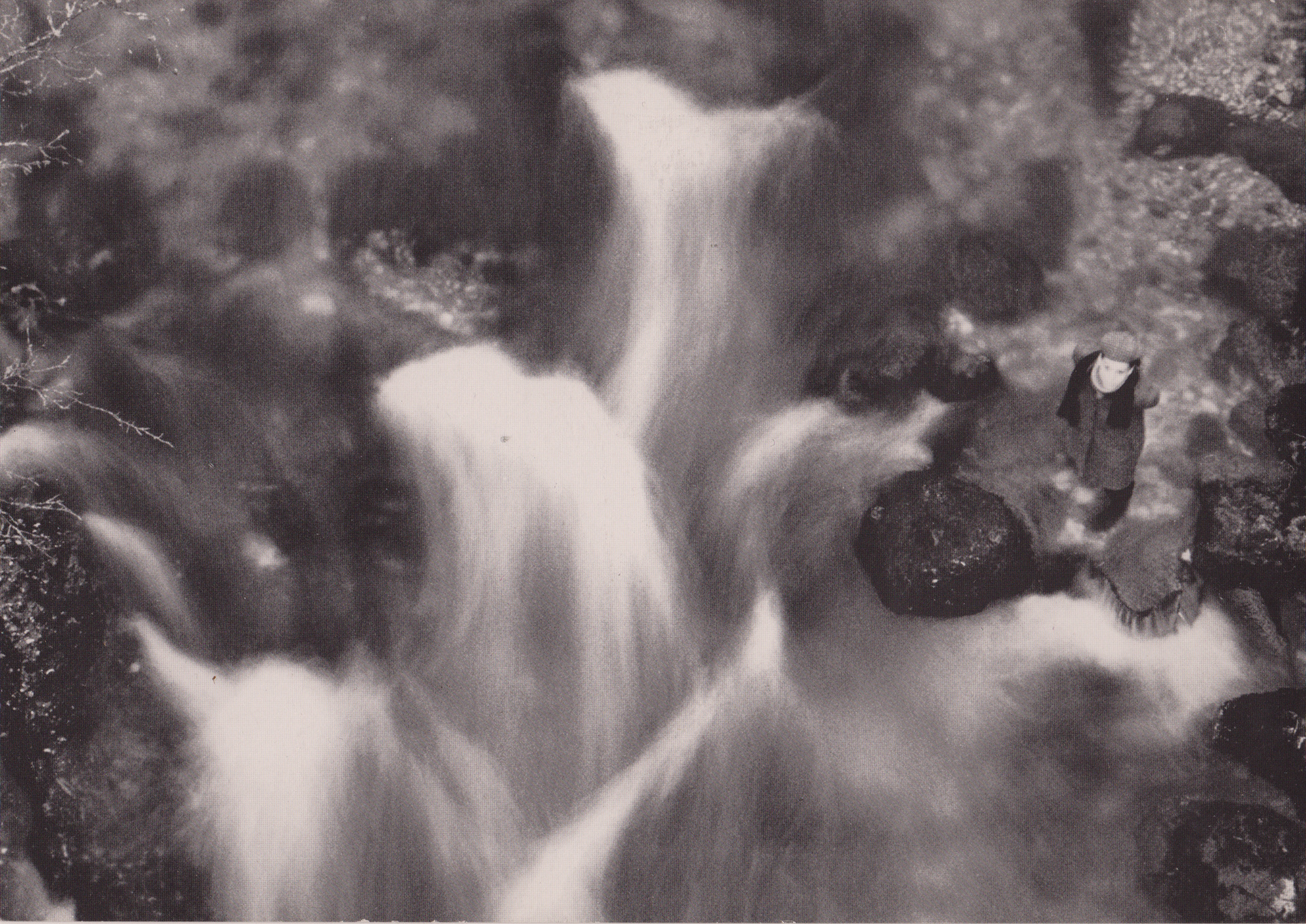 Panne & Formaggio, 2000, Genève
1975     Born in Montreux, Switzerland
2020  
°
Galerie Grande Fontaine
               Laboratoire d'art contemporain, Genève, Switzerland
2018     °ELSEWHERE, Taipei, Taiwan
2017     °Temple Honen-in, Ariane Monod / with Virginie Jaquier
2015      °Art Projects Gallery, Central Hong Kong
2013      °Dohjidai Gallery, Kyoto, Japan
2012      °Drawing Wall, Halle nord, Geneva, Switzerland
2010      °Espace 27 & Espace cheminée nord, Usine Kugler
2008      ° Espace cheminée nord, Usine Kugler, Geneva, Switzerland
2006      °Act-Art, Centre d'art en l'ile, Geneva, Switzerland
2004      °Gallery Post Scriptum, Belfaux, Fribourg, Switzerland
2003      °La Grange à Vanay, with Alain favored, Monthey, Valais
2001      °Gallery Pane & Formaggio, Geneva, Switzerland
2016     °Affortable Art Fair Singapore / Art Projects Gallery, Hong Kong
               °Affortable Art Fair Hong Kong / Art Projects Gallery, Hong Kong
2015     °Affortable Art fair Singapore / Art Project Gallery, Hong Kong
               °Affortable Art Fair, Hong Kong / Art Project Gallery, Hong Kong
2013     °Art fair Sapporo, Sapporo / Dohjidai Gallery, Kyoto, Japan
2019  °NANO - Raum für Kunst, SPEKTRUM n°!
           °We are small, Ferme Asile, Sion, Switzerland  
           °Biennale des artistes de Kugler, Feu sacré
             Usine Kugler, Genève, Switzerland  
           °"Murmures" Exposition collective
              Chapelle Saint-Maurice, Alby-sur-Chéran, France
             / une proposition de Nina Schipoff 
2018     °Carnets, collective, Halle nord, Geneva, Switzerland
2017     °Utopik Park, Biennale des artistes de Kugler & de leurs invités
                Usine Kugler, Geneva, Switzerland
              °Carnets, collective, Halle nord, Geneva, Switzerland
2016     °Carnets, collective, Halle nord, Geneva, Switzerland
2015     °Outre-mer, Usine Kugler, Geneva, Switzerland, Switzerland
              °Real Dream, Fonderie Kugler, Geneva, Switzerland
              °Aujourd'hui était hier était aujourd'hui... Geneva, Switzerland
2014     °Duo with Nina Schipoff, Espace K, Geneva, Switzerland
2013     °Pantone K 2013, Usine Kugler, Geneva, Switzerland
              °Ariane Monod – Leonard Felix – Maria Bill
                Usine Kugler, Geneva, Switzerland
              °La ferme de la chapelle, Duo with Chantal Carrel, Lancy, 
              °Kugler Remix, Geneva, Switzerland
2011     °Wall painting, Halle nord, Geneva, Switzerland
              °Mini (art) ure, Collective, Geneva, Switzerland
2010     °Extravaganza, Collective, Geneva, Switzerland
2009     °Panoramic, Collective, Espace cheminée nord, Geneva
2007     °50 X 50, Collective, Espace cheminée nord, Geneva
2002     °3 X 3, Visarte VD, Espace Arlaud, Lausanne, Switzerland 
              °3 X 3, Visarte GE, Center  of Art en l'Ile, Geneva, Switzerland
              °3 X 3, Visarte VS, Manoir de Martigny, Martigny, Switzerland
1998      °Artists' Books : Exhibition of Prints, Comestible Library, Geneva
1993      °The Gallery of the Galleries, Mines et Salines, Bex, Vaud, 
2000        Foundation Theodore Strawinsky, Geneva, Switzerland
                 Winner of the painting competition for graduates, HEAD 
                 (School of Fine Arts), Geneva, Switzerland
2007      °Diploma in Visual Arts, Pedagogical Visual Section, HEA
2002   °Proficiency Certificate in Secondary Education, HEP
2000   °Graduate School in Fine Arts, Painting & Printmaking, 
                 Graduation ESAV (current HEAD), Geneva, Switzerland
1993   °Certification Preparatory Course,  Applied Arts  school
2000 - 2019   °Visual art teacher, Secondary school, Bex
2014 - 2018   °Management of the evenement « Collecting time »
                          with Ikko Oyama, Program Echange Kyoto_Geneva
2007 - 2018   °Management of the exhibitions in the group 
                          «Espace cheminée nord», Association cheminée nord 
                          Usine Kugler, Geneva, Switzerland
2013               °Management in the group «Espace cheminée nord» 
                          by the exhibition «Pantone K 2013», A hundred artists 
                          in the Usine Kugler, Geneva, Switzerland